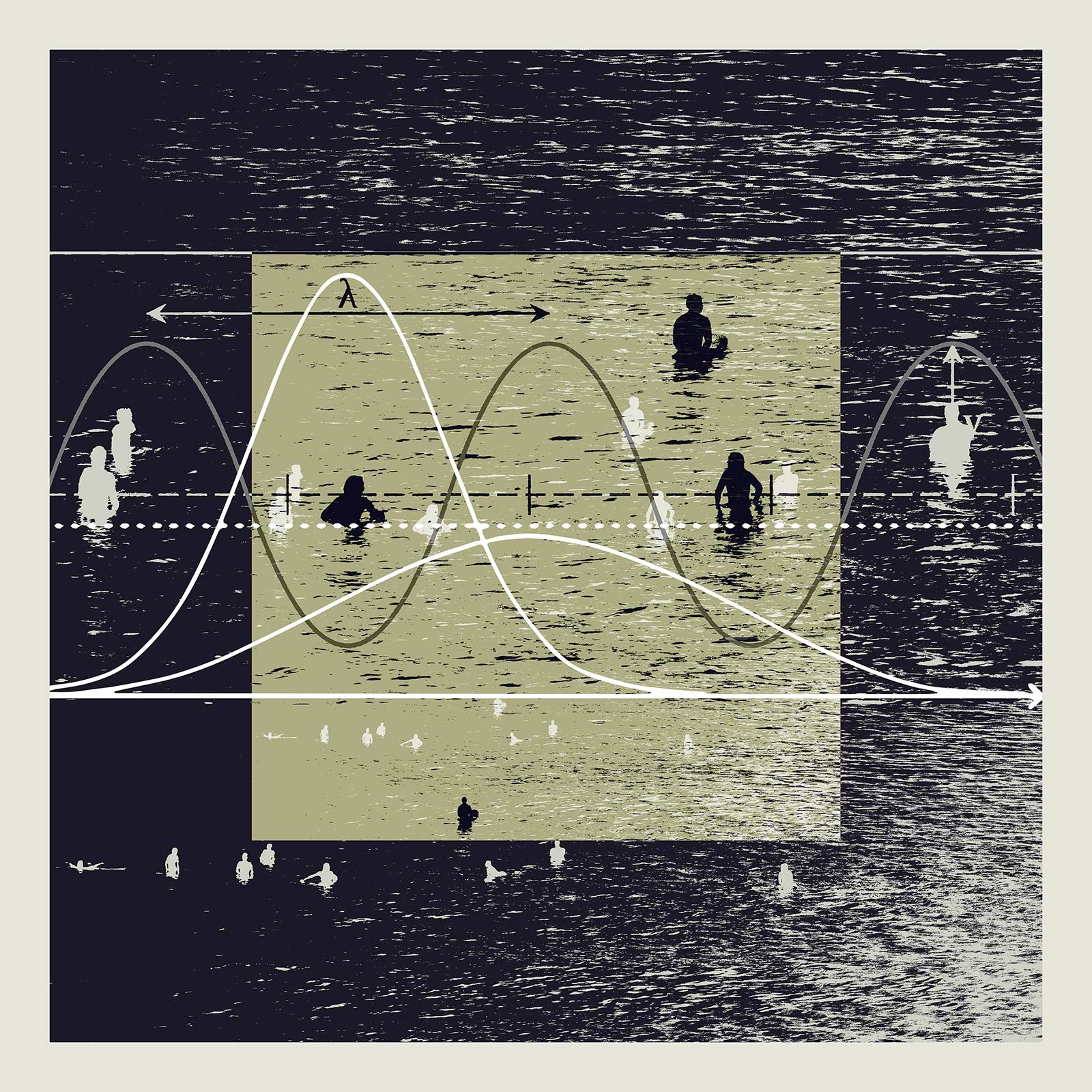 MARCH 2020
Amplitude vs. Magnitude: Cost/Benefit Analysis

This illustration/design was made during the first few weeks of the initial Covid isolation periods of March, 2020. This was a time when we knew very little about the virus. We were uncertain if it was even safe to be outdoors at all. There was fear that virus particles could stay vital and travel through the air, thus possibly infecting us.

A lifelong surfer, the ocean is a crucial place for me. It is a place I go for more than exercise and activity. But I stayed out of the water for two months due to the closures, fear, and myriad unknown factors. I did so willingly. Still, I would always look at the surf report and check the conditions daily, which I've done for decades now. I was weighing the cost/benefit of finding a hole, a way to get out there. But I never went. I didn't think it was worth the risk. Instead, I started making some new visual work.

For this work, I combined original photography with recreated diagrams relating to ocean wave amplitude and the early Covid curve. The idea of flattening the curve was the most powerful concept in my family's early decisions to isolate beginning on March 10, 2020. That was an idea we could understand and get behind. We felt it was what we needed to do.

The photo is a repeated and re-scaled shot of surfers sitting in a typical lineup configuration while awaiting waves. There were multiple clear parallels for me. The idea was to capture this sense of waiting, of not knowing what's coming, while drawing connections and contrasts with the diagrams. Plus, I just felt compelled to reconnect to places I could not access at the time. I made several illustrations during that period. I guess you could say the work was an effective coping mechanism.

After we learned more about Covid transmission, it became clear that outdoor activities were generally safe. While all other aspects of my life have been altered, I have still been able to get in the water. That said, I'm always aware of the virus. I'm always thinking, "What if?" It is now a normalized way of thinking and being in the world. It feels like that way of thinking will always be here, but I know there will be a time when we look back and remember this way of living. Hopefully it makes us more aware and appreciative of the beauty in the everyday—especially when unfettered by the complications of a constant, unseen threat.